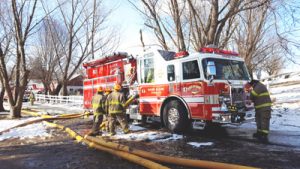 A very special group of Junior Firefighters gathered at the Fire Hall on the evening of December 20, 2017 to answer questions about their commitment to the Fire Company. There were two sets of brothers, the Fisher brothers Matt (17) and Luke (16) and the Miller brothers Arlan (18) and Christian (14), and a friend Ervin Zook (17). Here are the questions and their answers.
What was your earliest contact with the Fire Company?
The Fishers and Millers come from families in which family members have been firefighters for several generations. As boys they attended fire meetings with their fathers. The Millers took turns coming along. The Fishers came along for the food and often fell asleep! Ervin was in the same grade in school as Matt and was intrigued with Matt's stories about the Fire Company.
When did you realize that you wanted to become a firefighter?
For Ervin it was a conscious decision a year ago when he was 16. His buddies were talking about their experiences as Junior Firefighters and he was interested in what they were learning. The Fisher brothers live close to the Fire Hall so as young boys they could readily help with the barbecues and other events. Their interest has evolved from being present at events and activities. As long as Arlan can remember he has been interested in fire trucks and could hardly wait to turn 14 to become a Junior Firefighter. Every time Christian heard a fire siren, he thought about becoming a firefighter.
Did someone encourage you to get involved?
When Arlan was young, he asked his dad lots of questions after he came home from fighting a fire. His dad thought it would be a good thing for Arlan to become a firefighter because of his keen interest. Then Arlan encouraged two of his younger brothers. One was not interested but his brother Christian definitely is. Ervin's mother thought about the dangers involved and rightfully so, but she and his dad have given their consent.
For Matt and Luke, joining was the next step in following the examples of their great-grandfather, grandfather, and dad. If the fire siren went off, family members jumped up to respond. It was always a part of life. Their relatives had conversations till midnight about the activities at the Fire Hall and the boys loved to listen in until the grown-ups said, "Go to bed!"
What is your current status?
Arlan (18) has completed his Junior Firefighter training and is now an active firefighter. Matt and Ervin (both 17) are working on their checklists as Junior Firefighters. Luke (16) and Christian (14) are attending fire meetings and are in the very beginning stages of their Junior Firefighter training. (continued on page 2)
(continued from page 1)
What is the best part of being a firefighter?
Matt is interested in the administrative side because he likes numbers while Arlan likes the firefighting side. Matt appreciates the close ties between community residents and the Fire Company during the Carriage Auction and Half Marathon. He is inspired when the firefighters gather at the Fire Hall and stand ready to help others when there is pending danger.
Recently Arlan and Christian helped to assist when an area resident fell at home and are starting to see how much the Fire Company is really needed in the community. Luke wants to help his community and Ervin wants to make a difference in others' lives. At this point in the conversation, there were nods around the circle. An amazing group of Junior Firefighters are training at Bird-in-Hand!
An Invitation for You!
This is an open invitation for the young people ages 14-18 in our area to come to the Bird-in-Hand Fire Hall to check out what all is involved in the Junior Firefighter training. You will meet enthusiastic firefighters who will take you under their wing and teach you the skills you need to help protect our community. Remember, helping others is personally rewarding, gives purpose to life, and leaves us with a sense of well being.