Even though Hand-in-Hand Fire Company has existed in the town of Bird-in-Hand for 107 years and Bank of Bird-in-Hand has been here only three-and-a-half years, they have a great partnership. Both institutions are deeply invested in this community and their goals are similar – make this a good place to live and work.
The Bank of Bird-in-Hand opened its doors for business on December 2, 2013. Area residents were proud to have the first startup bank in the United States in almost three years, and in Pennsylvania in over five years. There was much excitement as passersby on Old Philadelphia Pike watched Dr. Whitlaw and Rudy Show's former residence and office transform into a brand new independent bank.
The Bank specializes in delivering exceptional personal service and maintains a strong focus on agriculture, small business and consumer banking. Founders of the Bank designed their organization to match the needs of the community they serve. And from the very beginning, they have concentrated their community outreach efforts locally.
In May 2014 the Bank held its first annual shareholders meeting at the Fire Hall. They plan to continue using the facility each year as long as there is adequate space since the Bank is growing.
In the fall of that year, the Bank also became an annual sponsor of the Bird-in-Hand Half Marathon Weekend. Since that time Chief Lending Officer Bill O'Brien has been cooking ribs for the community picnic following Saturday morning's run. This year the Bank sponsored the 5K Run on Friday evening.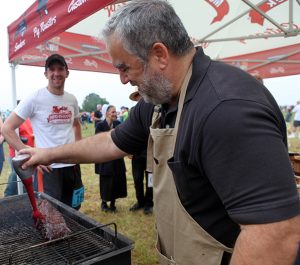 Bank of Bird-in-Hand began a new alliance with the Fire Company on June 19, 2017 by holding their first Summer Picnic Celebration for customers and shareholders on the grounds of the Fire Company's Lancaster County Carriage & Antique Auction. Both organizations shared the large tent, with the Bank using space on Monday before it was filled with auction consignments to be sold on Thursday and Friday. Almost 1,000 people attended the Bank's picnic.
The arrangement is of mutual benefit: the Bank's picnic is conveniently close to their main office and the Fire Company's auction enjoys a significant profit boost.
"The Fire Company is our primary sponsorship since the Bank opened," explains Bank President and CEO Lori Maley. "They are a volunteer organization that is very connected to the community. Their fire protection is a big commitment. They protect and support us and therefore we are very happy to invest in them."
Lori adds, "The community has embraced us as a Bank so we want to stay geographically local with our sponsorships. We have developed a very positive relationship with the Fire Company. They are great people to work with!"