Businesses that allow their employees to respond to calls during work hours are a very special gift to volunteer fire companies. At the Bird-In-Hand Fire Company this cooperation is vital to the fire company's existence since there are no paid firefighters on the team. Personnel leave their places of work at a moment's notice and are absent for the duration of the fire or accident.
To show the impact that responding to fire calls has on a company's daily operations, local business leaders were interviewed. These companies are only a sampling of those who lend daytime manpower to the Fire Company; all local businesses are equally appreciated.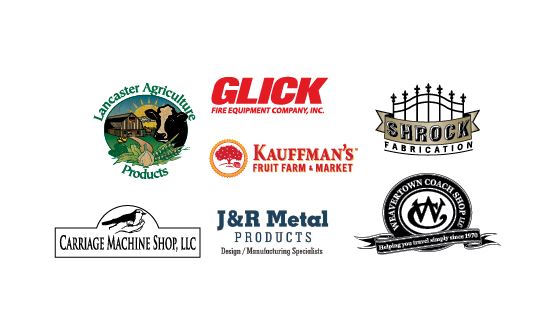 WHO? Business leaders and their featured companies…
Reuben Stoltzfus – Lancaster Agriculture Products
Doug Glick – Glick Fire Equipment Company, Inc.
Dave Kauffman – Kauffman's Fruit Farm & Market
Stanley Shrock – Shrock Fabrication
John Petersheim – J & R Metal Products
Jake King – Weavertown Coach Shop, LLC
These business leaders are or have been firefighters or EMTs who respond to calls while on the job. They understand firsthand the importance of the volunteer system.
HOW MANY? Number of employees involved…
These numbers change from year to year as new firefighters are trained and long-time firefighters transition into supportive roles. Presently, these companies release 1-8 people when a call is dispatched. While one company interviewed has a long history of firefighters, it currently doesn't have anyone actively firefighting. Employees do serve the Fire Company in other ways during their workdays.
WHAT? The specific policies that are in place…
Only one company has a written policy about responding during work hours. The other businesses have pre-planned what will happen when the siren sounds. The season of the year and the work projects that are underway at the time of the call determine how many will respond and which individuals are free to go.
HOW? The way the work is covered…
When the pagers go off, other employees need to step in for the firefighters who leave to respond to the calls. These employees are also volunteering since they go the second mile and take on extra work. In fact, it takes the cooperation of the whole company to make the volunteer system work, since there can be situations when customers need to wait to be served.
There are times when work tasks cannot be covered, such as certain painting procedures; disruption of an assembly line process; or when there are priority projects. Then a split-second decision is made determining who will respond and who will stay back. Other types of work wait until the firefighters return. Then firefighters must give the extra effort to catch up with their work.
WHY? Reasons companies share their manpower…
"It's always been this way. We know if we need help, there will be people coming to help us."
"The community supports us as customers, so we support the community. We want to give back. Plus, we want the Fire Company to be well-staffed."
"At the Bird-in-Hand Fire Company we have a good thing going. It is a good team and we are glad to do our part."
"We want to be involved in our community and help our neighbors."
"Giving is a natural part of my being, so we encourage our employees to get involved."
"We feel strongly about supporting our local communities in East Lampeter Township with our time and resources. We value the goodwill aspect of serving our community."
"There is give and take in a community. We want to serve mankind for the greater good of everyone."