The Lancaster County Carriage & Antique Auction, June 23 & 24, 2016, is a premier annual event that draws thousands of people to the town of Bird-in-Hand. An Amish Haystack Dinner officially opens the activities at 3:30 pm on Thursday, followed by the Early Bird Auction at 4:30 pm, and a full day of bidding and buying on Friday from 8 am to 6 pm. The people of the community support their local Bird-in-Hand Fire Company by assisting with this significant fundraiser.
This is an auction known for its fine carriages, great selection of miniature horses, and harness, tack, and carriage appointments. It also offers one-of-a-kind antiques, furniture, and high-quality quilts and crafts. The delicious food is popular with auction goers, since much of it is prepared fresh on the auction grounds.
An exciting area of growth is the sale of annuals, perennials, roses, flowering shrubs and bushes, shrubbery, ornamental grasses, and trees. This year the seating area in the shrubbery and plant tent will be significantly increased to handle larger crowds.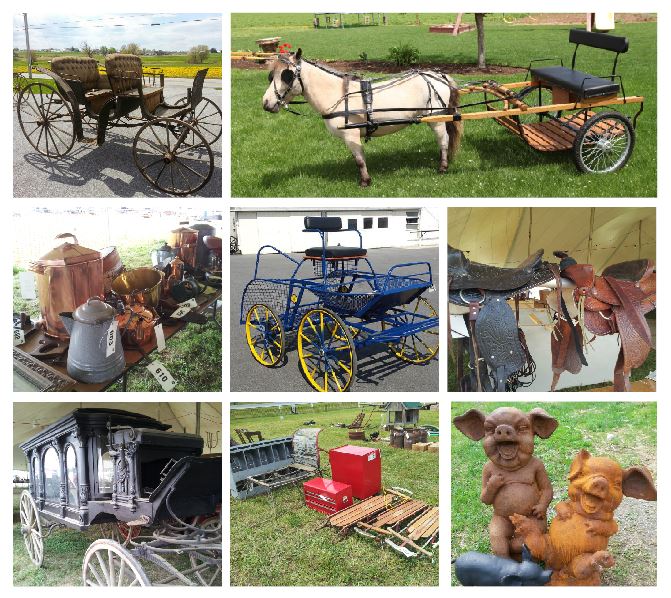 Shrubbery Coordinator Ephraim Huyard explains, "We appreciate the growing support for our nursery items and are ready to meet the demand. The sale of annuals starts around 4:30 pm on Thursday and nursery stock at 5:30 pm. On Friday annuals begin at 8 am and nursery stock at 9 am with a large variety of plants on the auction blocks all day long. There will be plenty of plants for everyone."
The auction is pleased to announce the donation of a runabout, a locally made open four-wheel carriage. Since the entire proceeds from the sale will benefit the Fire Company, the bidding on this carriage is sure to be one of the highlights of the auction.
Other auction highlights are the local foods, the horse-drawn shuttle wagon, the rows and rows of antiques, and the great variety of specialty carriages as eight auctioneers circulate among the auction blocks. At the end of a fun day, buyers have the satisfaction of knowing they have supported a great cause.