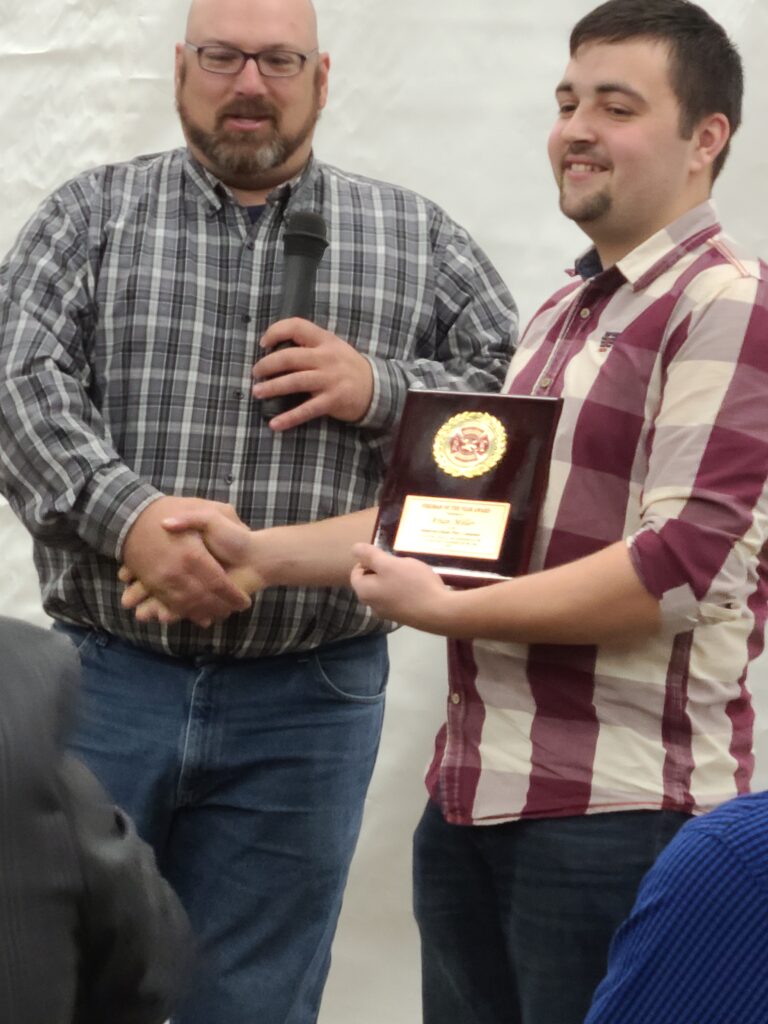 Arlan Miller was honored as Firefighter of the Year during the program that followed the November 18, 2020 Turkey Dinner at the Fire Hall. He became active in the Fire Company as a Junior Firefighter at age 15. Because he is a fourth-generation firefighter in his family, he has had many role models. It was his father, Allen, who suggested Arlan become a firefighter based on the many questions that his son asked him when he returned from fighting fires. Arlan acknowledges that he had a keen interest as a young boy.
At age 18 Arlan became an active member as a full-fledged firefighter. His first role in the Company was to be in charge of the gear, a role he still helps with today. He is also Lieutenant 3, has overall responsibility for Engine 41-1, serves on the Training Committee, and helps with various fundraisers.
In the seven years that Arlan has been involved at Hand-in-Hand, he has expanded his knowledge and skills. In addition to his firefighting role, he is certified as an EMT and runs with the Gordonville EMS Company. Arlan states, "I really enjoy emergency services. These are needed services in our community and I want to be helpful."
Arlan works at Beechdale Frames, his family's business, as the shop manager. His roles at the Fire Company have influenced his manager role. Through firefighting he has learned to organize, lead, and respond; all attributes that are valuable in the workplace.
Two more Miller brothers, Christian and David, are active at the Fire Company following the example of Arlan, their older brother. Recently David began training in the specialized position of engineer. This role caught his interest and drew him into the Company. Arlan encourages other young people to follow their passions and find a role to fill at Hand-in-Hand. He comments that it is a great way to get to know many people in the community and make new friends.
The Firefighter of the Year is chosen through a peer nomination process.