The Fire Company is planning new directions for upcoming year in order to increase interest in firefighting and fire prevention. Recruiting new volunteers and retaining present ones are priorities and the following initiatives will help achieve these goals.
New Firefighters
Bird-in-Hand wants to create an environment that is open to everyone – an environment that will encourage more volunteerism both in active firefighting and administrative roles. Presently the Fire Company is designing an introductory booklet that explains the training required to be a firefighter. It also includes rules, regulations, bylaws, and phone lists. At the beginning of March, a new firefighter, three probationary firefighters, and two junior firefighters joined the ranks.
New Chief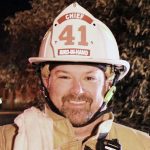 Don Boyer was voted in as the new chief of the Bird-in-Hand Fire Company for 2019. He has served in numerous positions, including deputy chief and assistant chief, since becoming a junior firefighter at the age of 16 in 1990. Don grew up within sight of the Fire Hall and remembers the excitement of running through the Quaker cemetery to watch the fire trucks leave for a call. Don lives in Willow Acres with his family and works as Quality Assurance Manager at Skyline Champion Home Builders in Ephrata. His children Kailey and Jason also run with Bird-in-Hand.
Training
In order to make firefighting skills instinctive and routine for both old and new firefighters, the Fire Company is going back to the basics. Refresher courses will go over the fundamentals of firefighting. New techniques will also be taught.
Duty Crews
Duty crews are volunteers who have arranged their schedules allowing them to commit to calls during specific periods of time rather than the hit-or-miss responses that are common to most volunteer fire companies. This guarantees that a sufficient number of firefighters will respond to your emergencies. This concept will be used first with drivers during the day. Several local businesses have offered their employees as much-needed daytime drivers.
Education/ Social Interaction
An Open House or Family Night as an outreach to the community is being considered. Also, cookouts for the firefighters and their families and games of volleyball are great ways to build bonds of trust.