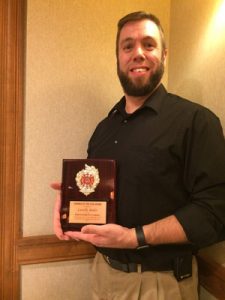 Lavelle Beiler has been a firefighter for nine years. His position of recording secretary was featured in the Fall 2018 Fire Company newsletter. Because his involvements were listed in that article, Lavelle has answered questions that pertain to firefighting for this column. He lives in Smoketown and has been teaching fifth grade at Weavertown Mennonite School for 16 years.
What is a fifth grader's view of firefighting? I usually take my students to the fire station for a mini field trip. At this age their view of firefighting is often the glamorous side, such as lights, sirens, helmets, and boots. They don't see the sacrifice it takes to dedicate time and energy to an organization.
How have your teaching skills impacted the roles you fill at the Fire Company? Both teaching and volunteering at the Fire Company involve working with people. Since I taught for several years before I became a firefighter, I had experience working with people and that helped me find my place in the Fire Company. Doing paperwork and using computers at school prepared me for the recording secretary job.
How has your view of the world changed because of your involvement with firefighting? I have come to a greater awareness of what people can accomplish when they work toward a common goal. This is displayed at our fundraisers as well as firefighters working together on a call. It has also made me more aware of needs around me, and how we all need to help each other.
What are the characteristics of a good firefighter? Good firefighters are well trained in the tactics of firefighting and use those skills to help their community. They are willing to teach others and continually work at gaining more knowledge and skills themselves. Good firefighters know how to work under an authority structure in a way that builds unity within a fire company.
Explain the personal rewards you receive from the hours you give to the Fire Company. I have enjoyed getting to know people from my community, whom I otherwise would not have met. People call 911 when something bad has happened, and it is rewarding to see people's gratitude for the help that they receive from the Fire Company.
The Firefighter of the Year is chosen through a peer nomination process.