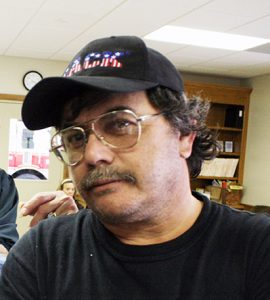 Rick was a member of the Fire Company for 39 years, beginning in 1978 when he was 16 years old. He served as chief engineer, on the Squad Committee, and was trained and qualified to drive the engine, tanker and squad. He drove Engine 41-1 to one final call on Saturday evening June 17, four days before his heart attack.
One of Rick's passions was driving the tanker in the Mother's Day convoy for Make-A-Wish. He was one of the top fundraisers for this organization. He enjoyed seeing smiles on the children's faces as he handed out firemen's hats and coloring books, plus he always had a large stuffed animal for the child who rode with him.
Each Saturday evening there is a distribution at the Fire Hall of baked goods leftover from a market stand. After local families had chosen what they could use, Rick put the remaining food in his pickup truck and delivered it to Water Street Mission in Lancaster. Rick had a heart of compassion.
Rick began his career as an auto mechanic at Dave Haldeman's Garage in Bird-in-Hand as a teenager. After Dave's retirement, he worked for Jack Robinson's Garage also in Bird-in-Hand. For the past three years he owned Rick Nields Garage, LLC in Smoketown. When he fixed minor problems on his friends' vehicles or Fire Company vehicles, he would say, "Merry Christmas." Rick had a generous heart.
Rick leaves his wife Betty, son Randy and daughter Jennifer. Four hundred people gathered at the Fire Hall on Sunday afternoon, June 25, to pay their respects to Rick.