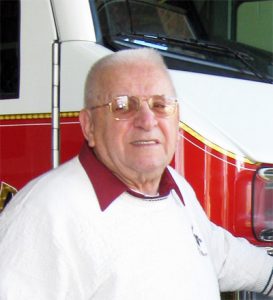 Bud was a member of the Fire Company for 42 years, beginning in 1975. His notable service was as the first official Fire Company chaplain, starting in 1977. He served in that position for over 30 years until 2010 and made an incredible impression on multiple generations of volunteers. Bud also shared his skills as an electrician with the Fire Company by giving advice and doing repairs as needed.
As an electrician with Lapp Electric for many years, his service went well beyond the community of Bird-in-Hand. He worked with disaster relief and with Habitat for Humanity in places such as the Deep South after Hurricane Katrina, West Virginia, Texas, Alaska, the Caribbean and Central America.
Bud was a long and faithful member of First Baptist Church in Lancaster. There he served as a deacon, trustee, Sunday school teacher, property committee member, and usher. Active with the American Baptist Men of PA and DE, he was named Layman of the Year in 2007.
Bud and his wife Grace lived at Lancashire Terrace Retirement Village in Neffsville. His first wife of 48 years, Katherine, passed away in 2002. They had five children, 10 grandchildren and 15 great-grandchildren.