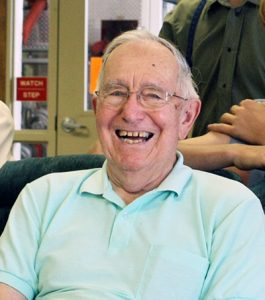 Dave was a member of the Fire Company for 69 years, beginning in 1948. He served as Hand-in-Hand's 6th chief for 20 years from 1952-1971. Other positions he held were president from 1978-1981, vice president, board director, Zone-4 delegate, Lancaster County Firemen's Association delegate, Pennsylvania State delegate, and Community Safety and Fire Prevention Committee.
Dave attended almost every fire meeting and he and his wife Mary could be counted on to help with Fire Company activities and any need in the community. He owned and operated Dave Haldeman's Garage in Bird-in-Hand for 33 years where he did car maintenance, small engine repair, fixed lawn mowers, pumped gas, and provided a place for the community to gather.
His community involvements touched many. A member of the Paradise Rotary Club, he had 58 years of perfect attendance. He was a charter member of the East Lampeter Park and volunteered with the Boy Scouts until he was 94. As a member of Conestoga Church of the Brethren, he served as choir member, Sunday school teacher, deacon, and administrative board member.
Dave and Mary retired to Brethren Village in Lititz. They have three children, Edward, Sara, and Sandra, four grandchildren, and two great-grandchildren.