Thanks to the support of our community, 2015 was another prosperous year for our fire company. We were able to fund all of the needs of the fire company, successfully providing our volunteers with the apparatus and equipment they needed to safely and efficiently protect the community of Bird-in-Hand.
By continuing to exercise spending discipline, we were also able to set aside funds for future anticipated purchases. Among these upcoming purchases will be the replacement of our current air packs that are almost two decades old, plus new radios to take advantage of the new county-wide radio system. These two projects are expected to cost nearly $170,000 in 2016.
Our fire dues donations slipped from 373 donors in 2014 to 334 donors in 2015. However, we remain very blessed, and greatly appreciate every financial donation, as well as all of the volunteer hours given by our community in support of our fundraising efforts. We ask that you please continue to stand by our volunteers by supporting them with a donation in 2016. Remember, even if you're only able to give a small amount, your support makes a difference!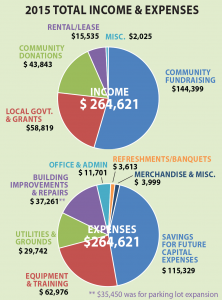 Our account balances as of year-end 2015 were:
Checking accounts…………………………… $165,618.61
Savings accounts……………………………… $113,333.93
Certificates of Deposit………………………..$ 50,000.00
Bird-in-Hand Fire Company is a financially transparent organization.
Detailed financial reports are available upon request.
Please contact Paul Fisher (717-380-1109) or Ivan Stoltzfus (717-341-0297).