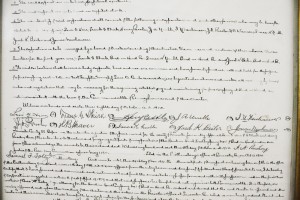 The earliest beginnings of the Hand-in-Hand Fire Company started on September 3, 1896, when a devastating fire swept through 12 buildings in the village of Bird-in-Hand.   The Great Fire of 1896 started in a barn that was owned by James Kacy, retired agent for the railroad.  It was located on the Old Philadelphia Pike west of the railroad station.  At the time Adam Gall was using the barn.  Unfortunately, Gall's small son was playing with matches in the barn and accidently set the straw stack on fire.
The fire flamed up quickly and the barn was soon a total loss.  While it was still burning, large sparks fell over the town and upon the wooden shingles of houses and other buildings.  Fire swept from Kacy's barn westward across the tracks, spreading to buildings on the south side of the Old Philadelphia Pike.
The people of Bird-in-Hand telegraphed the fire department in Lancaster asking for help and meanwhile formed a bucket brigade.  Hundreds of people were attracted to the fire and all were needed to help carry water.  Unfortunately the wells of the village were low at the time, but the townspeople used buckets, hand pumps, and what water they had.  The heroic work of the bucket brigade saved all but 12 buildings in the town, including the large warehouse of the Pennsylvania Railroad.  The damage was extensive as houses, barns, stables, roofs, farm implements, hay, straw, and other crops were destroyed.
Knowing about the threat of fire firsthand, the residents of Bird-in-Hand met soon after the fire to discuss the need for a more efficient fire fighting system than a bucket brigade.  The 50th Anniversary Celebration booklet states: This experience implanted a greater fear of fire and its possible consequence and contributed to serious discussion of the need for some fire fighting equipment better than buckets.  Discussion was inspired but action was slow.  Tired of discussion, a group of determined Bird-in-Handers met in Neuhauser Brothers Hardware Store in 1910 and duly moved and seconded and bound themselves together into an Improvement Association.
This determined group of men organized themselves and elected officers.  The first officers were Frank G. Shirk, President; Levi G. Herr, Secretary; and Isaac U. Neuhauser, Fire Chief.  The original group also included John A. Umble, Frank Minnich, Elmer B. Leaman, Jacob K. Beiler, and Abraham D. Brubaker.  It was Secretary Levi Herr who creatively used a play on words to give the new fire company its name.  He insisted that the village of Bird-in-Hand's fire protection be called the Hand-in-Hand Fire Company.  Thus, on November 21, 1910 a fire company charter was granted to this new company and annual dues were set at 25 cents.