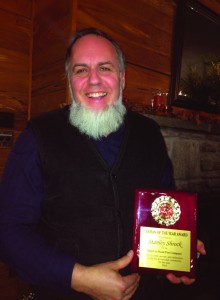 Stanley Shrock joined the Fire Company in 2000 when Stephen Stoltzfus invited him to become a member. Since Stanley had worked at Carriage Machine and had transported their employees to the fires, it was natural for him to become a firefighter too.
The fact that Stanley worked in Bird-in-Hand and was close by during the day when calls came in was a big advantage. Plus he had always worked with trucks and was available to drive the fire engines. Now he also lives in the village in a home that is very close to the station and he is a big part of the Fire Company activities.
Stanley serves as an active firefighter, an engineer, chaplain, and helps with driver training and fundraising. He has great passion for his work as chaplain, a position he has officially held for the past three years. "I have been given a servant's heart and reach out where I can to assist others. I try to be a bridge builder and a mentor to those who struggle in making connections with others."
The chaplain's responsibilities include prayers at meetings and meals, sending flowers and giving meal cards during sickness and death, organizing firefighters to pay tribute to those who have passed away, providing emotional and spiritual support at times of crisis, and addressing needs in the community. Stanley counts it a blessing to be able to work with other firefighters to do this important work, all for the glory of God.