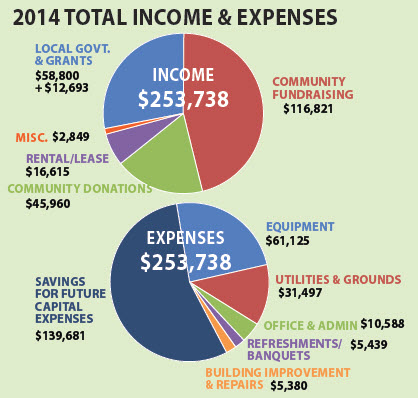 The year 2014 was again financially successful for our fire company. We held three fire company fundraising dinners, had a successful Carriage and Antique Auction, and managed a sold-out Half Marathon event. Due to the success of these events, along with your donations and our township support, we paid all of our operating costs and then set aside nearly $140,000 for our next major fire apparatus purchase currently scheduled for 2020.
We've made a very conscious effort over the past 10 years to engage our community and ask for your help to strengthen our finances and to build a solid financial foundation for our next generation of volunteers. Thanks to your strong support, we continue to meet all of our financial goals and remain 100% debt free!
During 2014, over 365 residents and businesses from our community donated more than $45,000 in cash contributions. Our volunteers greatly appreciate your support and we would like to assure you that we will do everything in our ability to use these funds in a responsible manner.
Please consider supporting our volunteers again this year by making a generous financial contribution. Thank you for all that you do for our fire company and our community!
Contributed by Paul Fisher & Ivan Stoltzfus