General Schedule
This is a sample schedule, but things do change from year to year.
THURSDAY
12:00 pm  Grab-n-go auction food starts
3:00-8:00pm   Homemade pizza, wings, salad bar, dessert & drink ($15 adult, $8 child, 3 & under is free).
3:30  Early Bird Auction – 2 or 3 blocks will be selling shrubbery/flowers, crafts, antiques/ collectibles, small tack items,  tools, and more. NOTE: No carriages or horses will be sold until Friday.
8:00 End – Gute Nacht!
FRIDAY
**Times may change. See the sale day catalog on Friday morning for the final schedule. Rain or shine! **
8:00am Antiques & Collectibles
8:00 am Row Items
8:00 am Shrubs, Flowers & Nursery Items…NOTE: All items on the nursery blocks are sold by the piece.  Example: If 2 hanging baskets bring a $10 bid, then buyer purchases 2 baskets for $10 EACH ($20 total)
8:00 am Harness, Tack, Carriage Appointments & Horse Related
8:30 Crafts
8:30 Misc. quilt items
9:30 Wagon loads of misc. household
10:30 Quilts  – catalogued
10:30 Furniture
10:30 Miniature horses & ponies – catalogued
12:00 Specialty items (sheds, fairy gardens, iron crafts)
12:30 20′ Round pen, bedding & dog food
12:30 Carriages (accessories sold first) – catalogued
Main Event Sponsor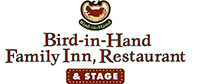 Bird-in-Hand Family Inn
Amish Country Motel
Travelers Rest Motel
Country Acres Campground
Bird-in-Hand Village Inn & Suites
Bird-in-Hand Family Restaurant & Stage
Bird-in-Hand Bakery & Cafe
Other Sponsors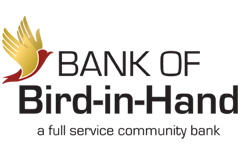 The Smucker Homestead (auction grounds)
The Levi Beiler Family (fields for parking)
"Thank you to our INCREDIBLY DEDICATED VOLUNTEERS. This auction could not operate without you!""
Wait Time
Please expect up to a 30 minute wait after purchasing items before attempting to pay for them. Our clerks work as quickly as possible. Thanks for your cooperation.
Loading Times
There will be staff available to help. We have lifts available for heavy items. Small off road equipment to assist in transporting goods will be available, along with extra hands! No vehicle traffic is permitted through the auction complex before 3:00 pm Friday. Items may still be loaded during this time, but please do not disrupt the auction.
Emergency Weather Plan
In the event of severe weather, we suggest taking shelter in your personal vehicle.  Auction Committee is NOT responsible for any weather related accidents or damage.  They will do their best to give warning of pending bad weather.
Terms
This is not an absolute auction.
Cash/check/credit card settlement on day of sale. Visa/Mastercard/Discover are accepted, subject to 2% processing fee. All checks must be accompanied by a bank letter of credit or be given prior approval by a Sale Committee Member.
No sales tax or buyers premiums.
Unsettled accounts will be turned over to a bill collector.
Owner has 2 days to remove merchandise from Sale Grounds, after which (unless other arrangements are made) the Sale Committee will dispose of items as seen fit.
The Sale Grounds are closed on Sundays.
Sale Committee is not responsible for the condition of any item sold. Please inspect your items before purchasing.
Sale Committee is not responsible for any accidents, injuries or thefts that may occur on the Sale Grounds.
Items resold privately will be subject to a commission fee.
Thanks for your cooperation! –The Hand-in-Hand Fire Co.
Right to Refuse
The Carriage Auction's goal is to create a good, clean environment for families, bidders, consignors, and our community volunteers. We ask that vendors and consignors respect this environment and refrain from offering items that are discriminatory, degrading, racial, or drug- and alcohol-related. The Committee reserves the right to refuse any consignors, vendors, or items that do not meet these guidelines or are otherwise deemed unacceptable. We consider attendees and vendors to be our Guests for the day on our auction grounds.
Misrepresentation
Misrepresentation of an item (i.e. presenting a reproduction as an antique) is not acceptable.  Please help us run a clean, honest auction!