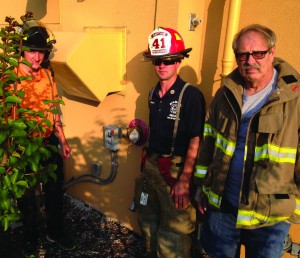 What do you want to be when you grow up? When eager children think of shiny red engines racing through the streets with sirens sounding, thick hoses gushing with water, Dalmatian dogs, and long, long ladders with lots of steps, their answer is…a firefighter!
There are many steps up the firefighting ladder to becoming a firefighter. But the children are correct; it is a noble goal and a rewarding way to serve your neighbors.
Hand-in-Hand Fire Company welcomes members of our Bird-in-Hand community to consider joining us as firefighters or support staff. As we talk to potential members, we determine their expectations and then look at their skills. We offer a step-by-step training program that gives new firefighters the knowledge and confidence they need to be a part of an excellent team.
Follow Bob White Through Training
Meet "Bob White," a Bird-in-Hand native son, who is 14 years old. Even though people of all ages are needed in our organization and joining the Fire Company as an adult is definitely an option, we will follow Bob through his training to become an active firefighter at Hand-in-Hand.
Childhood: Bob's family has always been active in the Fire Company. He has helped with fundraising dinners, the Carriage Auction, and the Half Marathon and as a very little boy, has fallen asleep at meetings he attended with his parents.
Age 14-15: He begins to attend trainings, but does not respond to fire calls. The company trainings are twice a month on the third Tuesday and fourth Monday.
Age 16-17: This is a special step! Bob is ready to train as a Junior Firefighter. He responds to fires, but does no interior firefighting, plus there are some equipment restrictions for him.
Age 18: Upon turning 18, Bob can be voted in as firefighter if he has been training for at least six months and completed the required checklist.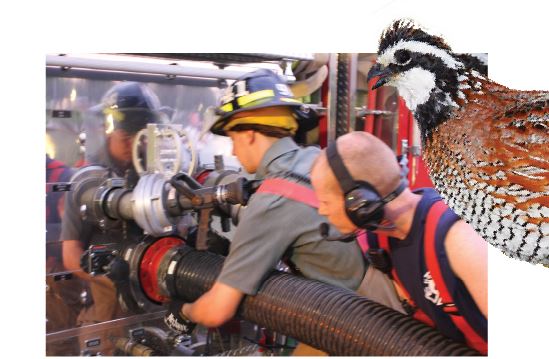 Junior Firefighter Training
Bob has a set of guidelines to follow that have been developed for the Junior Firefighters at Bird-in-Hand. They are very basic, but also very important to give him a solid foundation. In this step of his training he is learning to…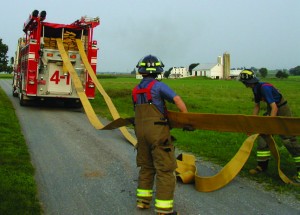 don turnout gear properly till it becomes second nature
locate equipment on apparatus
maintain self-contained breathing apparatus (SCBA) & change cylinders
set up lighting properly
pack hose on apparatus properly so that it deploys quickly
understand the accountability system and the importance of working together as a team under the direction of an officer.
Active Firefighter Training
As an able-bodied 18-year-old Bob steps beyond the basics and begins advanced training. He will always have the opportunity of continuing basic required training as well as participating in trainings with other companies and classes at the Lancaster County Public Safety Training Center. The company trainings that Bob attends along with 10-30 other firefighters include lots of hands-on learning. They are organized by Lyndon Beiler, Training Officer, and taught by Hand-in-Hand officers who have expertise in certain areas of firefighting. In order to take the next step and join the roster as Active Firefighter, Bob needs to…
don turnout gear in one minute and SCBA in one minute
demonstrate nurse tanker setup and operation, which involves getting water supply from other tankers
understand how to set up a fill site, which involves taking water from a creek or pond
lay supply hose line from engine and hook up to engine and tanker using wyes (appliances)
demonstrate proper hand line advancement and application using smaller hoses
understand Compressed Air Foam System (CAFS) and its benefits
understand the radio system; the technology is being updated countywide
demonstrate proper ladder placement in secure places, such as a rescue from a window
demonstrate operations of fans for ventilation and saws for cutting into a building
ventilate vertically (roof), horizontally (doors & windows), and trench cut (large commercial building in the roof)
understand signs of rollover, flashover, and backdraft, which are specific situations that can happen during a fire
complete National Incident Management System 700 (NIMS)
identify confined space equipment, which is on the squad for rescues in tight spaces
display common sense and know limits and boundaries
After passing all 14 of these steps, Bob is recommended to Chief Lonnie Kauffman. The Chief surveys all officers and then takes Bob's name to the Board of Directors. They in turn present his name to the general members who vote.
Congratulations to Bob! He has been approved as an active firefighter! One more required training that Bob will have to take within a year of his approval is HAZMAT (hazardous materials) certification.
Since Hand-in-Hand highly recommends advanced training in areas such as knots and rigging, map books, preplans for commercial buildings, rapid intervention team operations, and four modules of essentials and more levels of NIMS, Bob can continue to fine tune his firefighting skills as he serves his community.