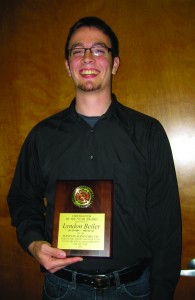 Lyndon Beiler signed up with the Bird-in- Hand Fire Company in the spring of 2004 when he was 14 years old. His uncle, Ken Kauffman, was Chief from 1988-1992 and his service made a great impression on young Lyndon. Plus as a young teenager, he was in contact with the present Chief, Lonnie Kauffman, and that also influenced him to join the ranks of firefighters.
Although Lyndon could not respond to fires till he turned 16, he has been very active ever since. He served as a Lieutenant from 2008-2010, as a Captain from 2011-2012, and as the Company Training Officer since 2011. In 2013 he was elected to the position of Assistant Chief.
He says, "One of the best things the Fire Company has given me is an opportunity to meet all kinds of people in our local community. It has a way of bringing together people from diverse walks of life as we focus on one common goal." As he responds to calls, Lyndon meets people whom he has known for a long time as well as many whom he has never met before. Either way, he finds it a privilege to help those who are experiencing a crisis in their lives and strives to make their situation better.
Lyndon finds much fulfillment in helping others. He encourages people in the community to join the effort, either in responding to calls, helping with fundraisers, or supporting the Fire Company in other ways as time allows. He states, "If you come with a willingness to give and to work hard, you will not be disappointed." For Lyndon, it is rewarding to serve his community. Lyndon was named Fireman of the Year at the Fire Company Thanksgiving Banquet on November 14, 2012.
The Fireman of the Year is chosen through a nomination process.