Firefighting: Dedication & Technology
From bucket brigades to a rig pulled by firemen to horse-drawn equipment to modern trucks and tankers, the Hand-in-Hand Fire Company has been a progressive company. They have been leaders in Lancaster County with their innovative firefighting techniques. Today the following equipment and techniques are standard:
• Enclosed cabs
• Assigned gear
• Air packs
• Compressed air foam system
• Thermal imaging cameras
• CO detectors for carbon monoxide and other gasses
• Larger pumps and tankers
• Organizing neighboring fire companies and their tankers so that there is a constant water supply at all fire sites
• Using an automatic system of multi-alarms
The Fire Company has made it a priority to learn about new technology and methods that are available to firefighters as evidenced by its rigorous trainings. It is true that the better the firefighters become, the tougher the challenges are. The modern construction techniques that reduce building costs make firefighting very dangerous due to fast-burning, lightweight building materials. For example, the present engine has the capacity to pump 1500-2000 gallons of water per minute on a fire. That is the same as emptying the water in a backyard swimming pool in two minutes. However, with present-day construction, the challenge is getting the water to the right place (directly on the fire), and dealing with floors supported by plywood trusses that cannot hold the water weight.
Firefighters must go through a continuing process of learning to evaluate emergency situations and determining exactly what they can do without endangering themselves. As their ability to extinguish fires improves, society's choices make the fires burn faster and hotter, seemingly negating the advancement of the firefighting techniques. The Fire Company continually keeps an open mind and evaluates new technology to determine whether it will be beneficial to their firefighting efforts.
Firefighters need to understand what they are capable of doing and then decide if it is worth the risk. That decision is made at every fire. A key concept is that they will risk a lot to save a savable life. However, they do not want to risk anything to save nothing. Current President Tim Hoerner comments, "Today the most important things we bring to firefighting are an attitude of self-preservation along with an urgency and ability to solve our community's emergencies when they occur."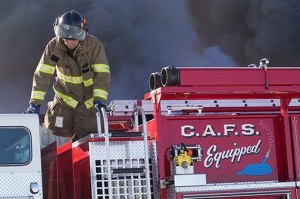 News