Consignments Wanted
Carriages, coaches, buggies, sleighs, wagon
Good antique items
Furniture
Blacksmith tools
New & used tools/equipment
Quilts (homemade/handstitched), crafts, collectibles
Horse & carriage related items
Miniature horses & ponies (40″ maximum)
**No junk, appliances, or farm equipment except antique & primitive items like old hay wagons, walking plows, etc.
Consignment Drop-Off
Staff members will be present Tuesday through Thursday to help consignors unload their wares and display their goods. On Wednesday and Thursday there will be 24-hour security and on Thursday the food stand will be open from noon till dark.
2019 Consignments will be accepted:
Tues. week of the sale  8am-12pm*
Wed. week of the sale  8am-8pm
Thurs. week of the sale  8am-3pm (this earlier than past years, because auction starts @ 4:00pm!)
ABSOLUTELY NO CONSIGNMENTS after 3:00pm on Thursday.
MINI HORSES should be brought in Friday morning (but must be consigned by general consignment cut-off above) and they are sold in the order they're consigned.
*Tuesday's consignment processing will stop promptly at noon, because another organization must prepare for an event on the auction grounds on Tuesday afternoon and evening.
Need a hauler?  Call the auction office and leave a detailed message with name, address, phone, and what you need hauled.   We have a handful of dependable individuals making regular trips to and from our area at competitive rates.
How to Consign
Download a Consignment Form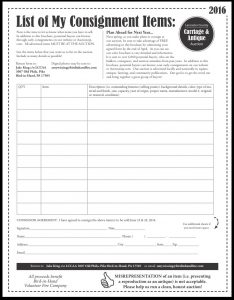 CONSIGN BY MAY 1st AND YOUR ITEMS WILL BE ADVERTISED IN OUR COLOR BROCHURE MAILED TO OVER 5,000 PEOPLE!
For more information or to list consignments, contact:
Carriages & General Consignments: Jake King 717-768-3299 or Paul Stoltzfus 717-656-0038
Mini Horses: Amos Zook 717-556-0378
Quilts: Christian A. Stoltzfus 717-397-4079
Crafts: Christ J. Stoltzfus 717-768-0684
Shrubbery: Ephraim Huyard 717-656-1444
Vendors: Steve Esh 717-768-0304
General Info: 717-945-4945
If your access to a phone is limited, feel free to write to us:
Jake King  c/o LCCAA
3007 Old Phila. Pike
Bird-in-Hand, PA 17505
Commission Rates
ALL ITEMS except quilts, carriages & ponies
(Total combined sales per category)
Total Sales…Minimum Commission…Commission Rate
$1 – 150…..$1.00…..25%
$151 – 500…..$37.50…..22.5%
$501 – 1,000…..$112.50…..20%
$1,001 – 1,500…..$200.00…..17.5%
$1,501 & Up…..$262.50……15%
CARRIAGES (Per item)
Total Sales…Minimum Commission…Commission Rate
Up to $1,000…..$10.00…..15%
$1,001 – 1,500…..$150.00…..12.5%
$1,501 – 2,000…..$187.50…..10%
$2,001 & Up…..$200.00…..8%
QUILTS & RELATED ITEMS
(Total combined sales)
Total Sales…Minimum Commission…Commission Rate
$1 – 200…..$1.00…..15%
$201 – 1,000…..$30.00…..12.5%
$1,001 & Up…..$125.00…..10%
MINIATURE HORSES & PONIES…10%
No reserves under $1,000 per item.
No sale fee is 3% or maximum $75.00.
No consignment checks will be sent out for less than $5.00.
All proceeds benefit the Bird-in-Hand Fire Company.
Right to Refuse
The Carriage Auction's goal is to create a good, clean environment for families, bidders, consignors, and our community volunteers. We ask that vendors and consignors respect this environment and refrain from offering items that are discriminatory, degrading, racial, or drug- and alcohol-related. The Committee reserves the right to refuse any consignors, vendors, or items that do not meet these guidelines or are otherwise deemed unacceptable. We consider attendees and vendors to be our Guests for the day on our auction grounds.