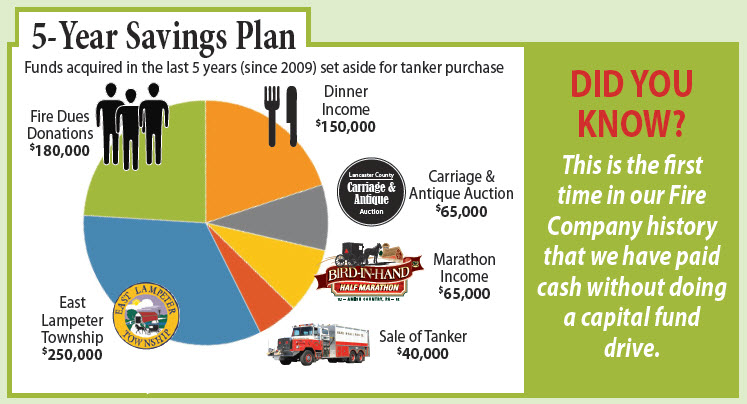 Thanks to the community's generous support, 2013 was a terrific success financially for the Fire Company! Because of your generous donations and the success of our fundraising events we had a record-breaking year. After paying all of our operating expenses, we were able to set aside an additional $136,000 towards the purchase of our new Tanker.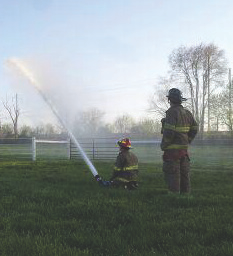 Since our last major capital expense of a new squad and major building renovation in 2008, the Fire Company has been working very hard. Six years later all of that hard work is now paying off. For the first time in the Fire Company's history we are purchasing a new piece of fire apparatus without a capital fundraising campaign – while at the same time remaining debt free.
The ability to make this major purchase is the result of the outstanding support of our entire community. (See chart of approximate breakdown of the fund sources for the new tanker)
In 2014 we continue to depend on your faithful donations and your attendance at our fundraising events. Your support is critical to our mission of protecting and serving our community while being good stewards of our local resources. Thank you for helping to make Bird-in-Hand a safe and wonderful place to live.
| | |
| --- | --- |
| 2013 Expenses | $225,817 |
| Equipment – New, Repair, Maint., Fuel | $35,037 |
| Utilities & Grounds, Insurance | $30,327 |
| Office, Administrative, Postage, Printing | $10,669 |
| Building Improvements & Repairs | $3,694 |
| Fire Prevention | $3,450 |
| Refreshments/Banquets/Merchandise | $6,629 |
| New Tanker Fund | $136,011 |
| | |
| --- | --- |
| 2013 Income | $225,817 |
| East Lampeter Twp | $56,000 |
| Grant Income | $11,823 |
| Carriage & Antique Auction | $17,069 |
| Fundraising Dinners | $37,597 |
| Marathon | $38,153 |
| Fire Dues Contributions & Donations | $47,131 |
| Meeting Room Rentals & Sign Lease | $15,830 |
| Interest & Miscellaneous Income | $2,214 |