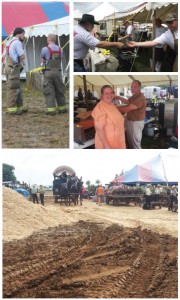 Rains fell, winds blew, and tents collapsed. Everyone in the Birdin- Hand area will long remember the challenging week for our Lancaster County Carriage and Antique Auction, June 24-28, 2013. But the very best memories are of an incredible spirit that rose up out of our community as the weather swirled relentlessly and crisis after crisis demanded that we work together to save our auction.
In spite of having to prepare for the sale in drenching rain and destructive winds, Organizer Jake King summarized the 2013 auction this way. "The community effort was awesome. Even though the profits were down because of extra expenses, the event was still successful. The success came in the way the community people pulled together to do whatever it took to solve the problems caused by the weather. Attitudes were great – no complaints or long faces. The weather brought out the good, better, and best in people."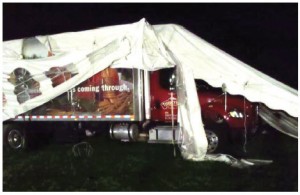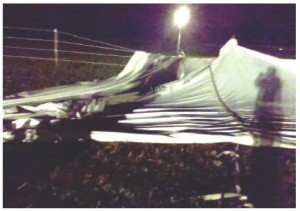 First ever Dutch Oven meal on Thursday evening sold out in spite of having to rearrange serving lines, change cooking times and locations, and eat at tables with pools of water at everyone's feet.
The Better… Friday, the day of the sale, dawned sunny and beautiful. A record number of 5,000 attendees, including 1,525 bidders, carefully walked over sawdust-covered mud on the auction grounds and enjoyed buying, eating, and fellowshipping.
The Best… Countless community people stepped up to do whatever was necessary, even setting up a 100′ x 160′ replacement tent in the middle of the night. And donors, such as the Robert J. Gunterberg Charitable Foundation, came forward with contributions to help cover the extra expenses. We, the Bird-in-Hand Fire Company, are very grateful for a supportive community and thank each of you for standing with us during the 2013 auction week.