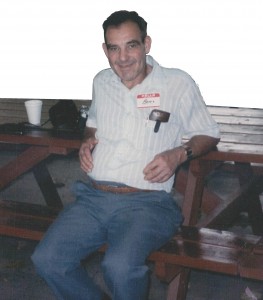 The Fire Company has been named the beneficiary in the will of Albert Boreman, a longtime resident of Smoketown. Al became ill last October and passed away on December 23, 2011 at age 76. Orphaned at age four, his life was hard and full of many challenges. As a young man he did roadwork when the Route 30 bypass was built around Lancaster City and became acquainted with area residents.
To be near his friends, Al made Smoketown his home. The local community rallied around him throughout his life. Families like Gordie Fritz and Jake and Ruth Bare periodically gave him lodging and employment on their farms. Al spent many years working at Nolt's Mill, where Jim Nolt made sure that he had money in the bank for retirement.
Al was a hard worker and a goodnatured man in spite of some rough edges. He enjoyed hunting with the local men and had many friends. In retirement he liked driving around in his car in a ten-mile radius of Smoketown, sometimes putting 25,000 miles on in a year's time. He was so regular in this routine, people could set their clocks by when his car went past.
A memorial service was held for Al at the Fire Hall on January 18, 2012 with Henry K. Fisher officiating and attended by 75 friends. Afterwards his belongings were auctioned off and the proceeds given to the Fire Company as stated in his will. His gift was a meaningful gesture of giving back to a caring community who had been like family to him.