Five firefighters from Bird-in-Hand joined a group of three other local men to volunteer with the West Hancock Fire Rescue in Pearlington, Mississippi, this summer. Lyndon Beiler, Amos Lee Fisher, Raymond Petersheim, Ivan Stoltzfus, and Melvin B. Stoltzfus spent 12 days relieving the regular volunteer firefighters in this community on the Gulf of Mexico that was devastated by Hurricane Katrina in 2005.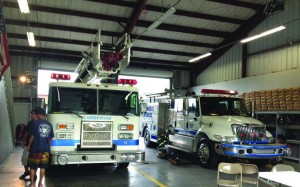 After Katrina's destruction many volunteer firefighters quit to help with the rebuilding or moved out of the area. That has left a small core of active firefighters whose primary coverage area is spread out over 75 square miles and includes 13 miles of Interstate-10 and the I-10 Pearl River Bridge. With an average of three calls per day (1,000 a year), they need help from fellow firefighters.
For 25-30 weeks out of the year, firefighters from many different states drive to the Deep South to give the West Hancock Fire Rescue members a break. On July 8-20 the young men from Bird-in-Hand took their turn in this heartwarming mission. They cooked meals in the kitchen, slept in the station bunkhouse, and responded to 16 calls. Fourteen of those were vehicle accidents, one was a trailer fire and one was an elevator rescue. This is typical because 90% of the West Hancock calls are accidents due to I-10.
Ivan Stoltzfus summed up his experience, "They are happy for anyone's help. Down there you do what you need to do. They do not nitpick. It was a lot of fun to go down south, but when we got home, we were thankful for all the things we have at our station."