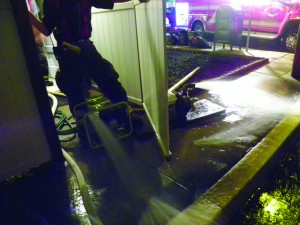 On September 7 Tropical Storm Lee dumped 15 inches of rain on Elizabethtown. There was so much water that their local fire company could no longer handle all of the calls. The Hand-in-Hand Fire Company assisted in pumping out homes during the evening.
Then at 2 a.m. on September 8 a call for help with nighttime water rescues came from Manheim, which was dealing with swollen creeks. Hand-in-Hand firefighters who had water rescue training were sent to answer that call. Driving through two feet of water on Main Street, the squad rescued stranded people off of their front porches. Other fire companies with boats worked the streets that had water five feet deep. From 5-7 am Manheim was completely surrounded by water and all roads were closed.
The Hand-in-Hand firefighters stayed into the afternoon of the next day to pump out homes in Manheim and East Petersburg. In one neighborhood firefighters stood beside residents as they watched pumped-out basements fill up with water again. The hours were long and the work exhausting. As one firefighter testified, "We just did it. We just kept right on going." Several from Bird-in-Hand only had five hours of sleep in a 40-hour block of time. At the end of three days the Fire Company had given 284 manhours to the flood effort.
Thankfully in the Bird-in-Hand vicinity there were only several closed roads in low-lying areas. As rain continued to fall, the creeks receded and then rose again. Some of the roads had to be closed twice.